Kids & Youth at EPC
Children's Faith Formation

Children's Ministry
Church Nursery/Toddler Room

Sunday School

Vacation Bible School
Children's Christmas Program
Children's Faith and Fun Events (movie night, berry picking, pumpkin patch/picnic, SkyZone and many others)
Children's Chimes Choir (see

Music

page)

Questions or comments?

Contact Joan Jones

Preschool:
To the very young child, words mean less than actions. God is experienced through a loving nurturing parent or caregiver. The church nursery (Crib – 1 year) provides a safe and happy place for the young child to explore his world with a consistent caregiver and volunteers who can provide safety, love and support. The nursery staff is available each Sunday from 9:15 – 11:30 A.M. on Sunday mornings.
Preschool Children (2-3 years) can begin to interpret life lessons through Biblical stories in an active learning environment, applying the lessons and values of the faith in a variety of ways. Centers for exploration related to the lessons are still a part of the active learning experience, however shared learning can occur during group time.
K-4 through Elementary:



Children in K-4 through 5th grade, with the help of their teachers, are capable of learning in a more structured way. The lessons and stories in scripture from which faith can grow must be combined with feelings and experiences. We currently use a Lectionary based curriculum, enabling children to hear, study and discuss the same scripture lessons their parents are receiving in church that day. Sunday School begins at the same time as the church service, with the children returning to the service right after the sermon. They then participate in the Affirmation of Faith, Offering, Prayers, Communion and Baptisms.
Children's Ministry

An Illustrated Compassion
Learning to Love Like God
What an exciting time in the life of EPC! This fall, Pressley will be preaching on Compassion and our children will be learning what it means to live a compassionate life. Each week, they will hear a particular story of faith and all parts of their lesson will point back to that story. They will share music, activities, stories, prayers and ways to put their compassions into action. If you would like to join this leadership team and walk with our children on this journey of compassion, please contact Joan Jones via email at joan@eastminster.com ! It will be a blessing to the children and to YOU!
Compassion in the Hebrew Scriptures
Aug 27 Genesis 18:1-8 Abraham and Sarah's Guests
Sept 3 Exodus 1:15-2:10 Shiphrah and Puah's Courage
Sept 10 2 Samuel 9:1-13 David Shows Kindness
Sept 17 2 Kings 6:8-23 The Feast that Ended the Attacks
Compassion in the New Testament
Sept 24 Matthew 9:35-38 Jesus' Compassion
Oct 8 Mark 10:17-27 The One Thing
Oct 15 Luke 7:11-17 Compassion that Heals
Oct 22 John 5:1-9 Jesus Heals on the Sabbath
Living a Compassionate Life
Nov 5 Deuteronomy 10:12-22 You Were Immigrants
Nov 12 Micah 6:6-8 What is Good
Nov 19 Matthew 25.31-46 Lord, When Was It?
Nov 26 Luke 10:25–37 The One Who Showed Him Mercy

Mission Statement
The goal of the Youth Ministry Team is to nurture the youth of EPC by providing a diverse program that includes education, service, recreation and fun . Some months may have more of one activity or the other. Questions or comments? Contact

pressley@eastminster.com
Youth Sunday School (Grades 6-12)
Every Sunday from 11:00 AM- 12:00 PM

Youth are figuring out who they are as they search for whose they are. Curriculum materials provide opportunities for this age group to explore their personal and communal identity in Christ through meaningful community-building experiences, engaging Bible study, and relevant learning activities.
Sunday Evening Youth Fellowship as scheduled:
This is a time for the combined Youth Group (6th – 12th Grades) to come together for more than a classroom experience. This time allows the youth to form relationships within a Christian community while building a mature faith. Activities vary based on our model for youth ministry as stated in our mission statement (above).

Youth Ministry Includes…

Outreach and Service Projects:
Visitation of nursing home & home bound members

Walk for the Homeless

Mission Trips
Conferences and Retreats:
Montreat Youth Conference (one week)
Montreat Mid High Conference
Leadership:
Youth/Sr. Sunday

Vacation Bible School
Youth Rummage Sale
Recreation and Fun:
Bowling
Lock-In
Carowinds
Football Games
Pool Parties
Education and Growth:
Sunday School/Bible Study

Youth Group Discussions
Montreat Conferences
Confirmation Class
Friendship & Fellowship with one another
Conversations about "Issues of the World"
Personal Growth
Youth Fellowship
Be on the lookout for news about Sunday Night Youth Fellowship beginning Sunday, September 17. Youth will meet on the 1st and 3rd Sunday from 5:30-7:00 pm.
5:30 pm Dinner
6:00 pm Middle School and Senior High will split for their own program
Mark your Calendar
October 21-22, 2017 Middle School Retreat to Bonclarken
March 16-18, 2018 Senior High Mini-Montreat Weekend
June 9-16, 2018 Senior High Montreat
July 18-22, 2018 Middle School Montreat
Senior High Education Hour
Random.
Chaotic.
Circumstantial.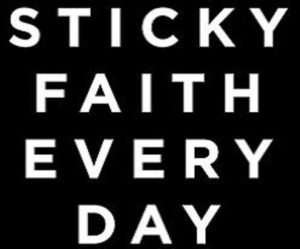 Sound familiar? If you are a high schooler or live with one in your home, chances are these words describe quite a bit of your daily life experience. Teenagers engage all kinds of vital life tasks in random, chaotic, and circumstantial ways. Like their friendships. And dating relationships. And sports. And homework. Just to name a few.
But we're not using the words random, chaotic, and circumstantial to describe any of those areas of life right now. We're using them this fall to describe the prayer life of teenagers. Each week, we will explore aspects of prayer and worship through arts, drama, and more. This class is designed to help youth reimagine and engage in spiritual practices to notice God every day.
Middle School Education Hour
This year, our Middle School and High School youth will be meeting separately for Sunday School and youth group time. There will be some occasions that we join together for special events or for mission opportunities but most of our gatherings will be separate. Our Middle School youth will meet on Sunday mornings during the education hour and using the curriculum "Can I ask that?" We hope to create a space that our youth can ask tough questions and know that all those questions are welcome here. Ann Broom will lead the group on Sunday mornings with the help of several other adult volunteers. Middle School can be an exciting and challenging time. We want our youth to come and plug into the many opportunities available to them at EPC as we learn, grow and ask questions together! If you would like to join this amazing team of volunteers, please contact Joan Jones.
August 27 Is Jesus the only way to God?
September 3 Does God endorse violence?
September 10 How can I follow a God who would let Christians do such bad things?
September 17 Reformation Study- Here I Stand
September 24 Reformation Study- The Lawyer Pastor
October 1 Stewardship Lunch- No Education Hour
October 8 Reformation Study- Three Styles of Worship
October 15 Reformation Study- The Sacrament of Communion
October 22 Reformation Lunch- No Education Hour
November 5 Is it wrong to doubt God?
November 12 Is hell real? How could God send someone there?
November 19 Can I do something so bad God won't forgive me?
November 26 Why do bad things happen to good people?
December 3-December 24- Advent Study
December 31 No Education Hour
January 17 Why is it so awkward to talk about Jesus with my friends?