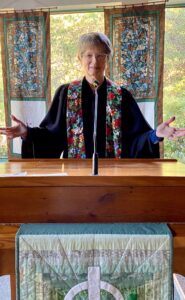 Please come and join us for worship at 10:00 am and then participate in the education hour after worship. We hold our virtual worship at 10:00 am on our Facebook page. You can also view it on the Facebook feed below. Our services will also be posted to our YouTube channel later on Sunday.
We are worshiping in-person and have recently made some important changes to our Covid-19 protocols.
We hope that you to find a welcoming congregation and encounter Jesus Christ through our worship experience.
Please join us this Sunday, Sept. 19. as Reverend Beth Templeton will present the sermon. "Sailboat Church: The Making of Sailors". The sermon will be based on Jn.14:15-27.
Sept. 26 Eph.4:22-5:2 Sailboat Church: Discernment and Preparing for Storms
October 3. Joshua 9:3-21, World Communion Sunday
October 10. Colossians 1:1-14 Stewardship
October 17. Genesis 12:1-9 Abram's Trip
October 24. Genesis 16:1-15, Hagar
October 31. Genesis 22:1-14. Show Up
"Sailboat Church" Sunday School
Every Sunday in September (5, 12, 19, 26), Rev. Templeton will be using scripture as she looks at the "Sailboat Church," by Joan S. Gray. After each worship time, we will gather as adults and youth to discuss that Sunday's emphasis. All are invited to stay and join in conversation with us, led by various Elders of Session. Those who cannot join in person are welcome to watch and listen as we plan to stream the sessions on Facebook. The book focuses on helping churches to rethink their mission and practice, letting the Holy Spirit guide them along their journey.
Fall Work Day at EPC
Sept 25th from 8 AM to 11 AM
Breakfast will be provided.
We will need rakes, wheel barrows, hedge cutters, and misc. yard tool items.
We will be adding pine needles to the back yard and some fresh mulch and flowers to the front areas. We are also hoping to do some trimming along the building as well.
Come for breakfast, fellowship, and fun.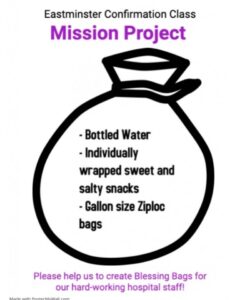 EASTMINSTER CONFIRMATION CLASS MISSION PROJECT
Our Eastminster Confirmation class has chosen to create Blessing Bags for our hard-working hospital staff. But we need your help! Would you be willing to donate cases of bottled water, individually wrapped sweet and salty snacks, and gallon size Ziploc bags? We will also gladly accept monetary donations to purchase supplies. Our Confirmation class will gather and put all these together so we can share the Love of God with all who are working so hard! We will collect items for the next two Sundays. You can also drop them off Monday-Thursday between 9-12 at the church office. Thank you for your prayers and support for our Confirmation class!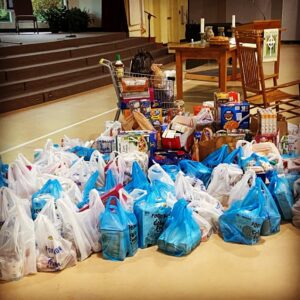 Thank you to everyone who donated to our Summer Food Drive! We collected over 2000 items that will be given to United Ministries and the Center for Community Services.
We publish a Friday newsletter via email which lists our small group activities, upcoming events, and church family joys and concerns. We also provide our weekly worship resources to members of this list. Please sign up for this newsletter to learn more about our church.

We would love to have you be part of our church family. To get a sense of who we are and our facilities, please have a look at our I AM New page. If you have any additional questions, please contact our church office.
During our separation due to Covid, we have not been able to gather together be family with one another. We offer this glimpse of our family to give you a sense of who we are – not just a building but a group dedicated to caring for one another and for others.

Our worship service will appear in this viewer on Sunday around 10:00 am. You can watch our service here without signing into Facebook. You may have to refresh your browser screen to get it started.

Learn more about our events and activities through this page by scrolling down on this viewer. If you wish to view previous worship services, please visit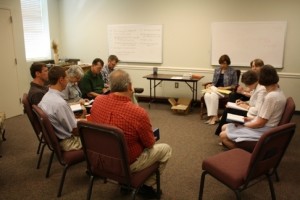 Due to the suspension of in-person events, our Fireside Chat class will meet at 11:30 am and our Adult Disciples class is meeting at 11:00 am. Both classes are meeting via Zoom. Please contact the church office for details about the Zoom meeting(s).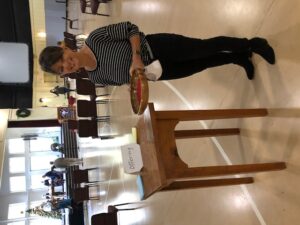 During these challenging times when our patterns of giving to the church are interrupted, some may be concerned about the financial needs of the church. We have added a new way for you to continue your regular giving by using our Online Giving Form.
You can also donate by sending a check to:
Eastminster Presbyterian Church
2131 Woodruff Rd.
STE 2100
Another way to give is to use
the auto-pay (Bill Pay) of your checking account to mail a check either each week or set up on a recurring basis. You can also give using your mobile device by texting "Eastminster" to 73256. Standard text message rates do apply.