After a more than 6 month hiatus, we are all looking forward to our return to Sunday morning in-person worship at Eastminster, beginning on Sunday, October 4th at 10 am. It's our honor to welcome our new transitional pastor, Rev. Beth Templeton on that day. We will be utilizing an online registration system in order to plan seating according to our social distancing guidelines. On Monday, you will be able to register your family or household group online by using the link provided via email from Eastminster Presbyterian Church or found here on Eastminster.com. We will be limiting our registrants to a maximum of 70 attendees, so please register early. Seats will be arranged in household groups according to the registration list.
Find out more about our EPC Covid-19 plans.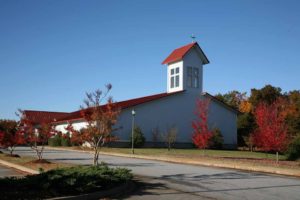 Please come and join us for worship at 10:00 am and then stay for the education hour at 11:00 am.
We want you to find a welcoming congregation and to encounter Jesus Christ through our worship experience. To read more about about what to expect as you visit our church, visit our I Am New page.
"Listening for the Word of God"
On Sunday, October 24th, join us online for a very special worship service prepared by members of Foothills Presbytery. The service is centered on Psalm 46, with the theme, "Listening for the Word of God." It is the collective effort of over 30 presbytery church leaders, and is designed to offer words of hope, wisdom, and unity during a time when despair and distance intimidate the Church. Parts of the service were filmed at Eastminster in the Sanctuary and Outdoor Chapel. The closing song features Lucie Svatonova-Hughes and Carol Irick. A link for this service will be provided via email prior to the service.

World Communion Offering
Sunday, October 4th is World Communion Sunday. We will be collecting one of Presbytery's special offerings, Peace & Global Witness Offering. The money collected will be used to support the Presbyterian commitment to peacemaking and reconciliation ministries both locally and globally. Twenty-five percent of the money stays with our church to be used for peacemaking in our community. Please consider giving in order to support our calling as Peacemakers.
Note: Our plans are to use our Facebook and YouTube tools for virtual worship for those who cannot be present during worship.

Each Friday, we publish the "Eastminster Weekly News" which is an email that describes the events in the church and the Worship service for the coming week. Please sign up for this Friday email so you can see what's happening in the life of the church. This is especially important if you wish to receive the liriturgy for worship and direct links.
With the resumption of in-person worship, we will be moving our Adult classes to 11:30 am. Both the Fireside Chat and Adult Disciples class are meeting via Zoom for now. Please contact the church office for details about the Zoom meeting.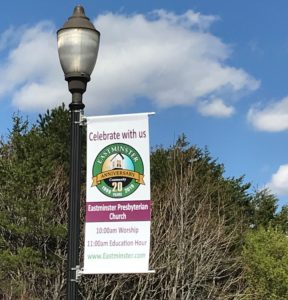 During these challenging times when our patterns of giving to the church are interrupted, some may be concerned about the financial needs of the church. We have added a new way for you to continue your regular giving by using our Online Giving Form.
You can also continue to donate by sending a check to Eastminster Presbyterian Church office at 2240 Woodruff Road, Simpsonville, SC 29681 or by using the auto-pay (Bill Pay) of your checking account to mail a check either each week or set up on a recurring basis. You can also give using your mobile device by texting "Eastminster" to 73256. Standard text message rates do apply.