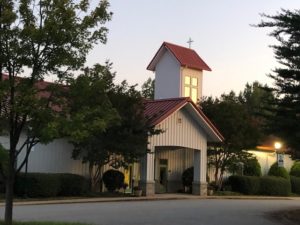 As of January 1, 2021 we have received 52 pledges totaling $267,880 for the 2021 Eastminster Stewardship Campaign. Thank you all so much for your very generous commitments. We are blessed that numerous pledges that we received increased their commitment from 2020.
Dear Eastminster family,
The energy and momentum at Eastminster Presbyterian Church are palpable these days. Regardless of the ways in which you engage the life of this faith community, we hope you can sense the movement of the Holy Spirit here. It's from this place that we come to you about our stewardship campaign for the coming year, and ask for you to join us.
Eastminster is a congregation of generous people, who have invested much time, energy and work, but commitments of financial gifts are also critical to the work of the future here. While much good work has happened, we must all step forward to ensure our beautiful campus is taken care of for future generations, our staff are well-supported, our children and youth ministries are strengthened, and our missions and outreach increase.
Stewardship is an invitation to participate in the work of the Spirit at Eastminster. Pledges help us build and plan as we move forward into God's future together. We need everyone to make a commitment. Why? Because God is, in God's own heart, One who gives. We are called, as followers of this same God, to be generous. How will we respond?
We ask you to join us in continuing your commitment to Eastminster; pledging your time, and talents. We hope you will join us in committing to worship, grow, and go in our faith together.
Faithfully yours,
EPC Stewardship Team
Eileen Osteen, Lynn Moorshead, Ed Irick, and Michael Randall
Stewardship Campaign Presentation
View live presentation below:
Dear Pledging Member,
On behalf of Eastminster Presbyterian Church's Session, we thank you for your generous Pledge in support of the Eastminster Stewardship Campaign. We understand that these are difficult times and we thank you for your gracious support and for your willingness to share your time and resources with the church, as they are needed now more than ever. With your commitments, we can move forward with renewed faith and with confidence that our ministry in this community and around the world will continue to make a difference.
Your pledges help enable Eastminster to provide the needed gifts required to serve one another as well as the wider community. While we have much to be thankful for, we also have much to do in the future as we Worship, Grow, and Go in our faith together.
Thank you so much for sharing your time, talent and treasure with Eastminster Presbyterian Church. Your generosity makes all that we do possible.