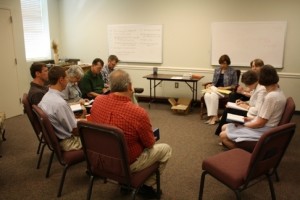 reschool –Kindergarten class
Leaders: Kim Gassner and Deb Vanderveer
Location: Downstairs Large Childcare Room
This class will be using the Living the Word curriculum. Living the Word follows the Narrative Lectionary. Living the Word will allow our children to hear and learn the stories that they are also hearing in worship.
1st-5th grade class
Leaders: Helen Roderick and Anitha Samuel
Location: Upstairs Classroom
This class will also be using Living the Word curriculum. This class will be using the Learning to Use My Bible materials at home and will be sharing those activities with the Sunday School friends.
Middle School class (6th-7th grade)
Leaders: Stephanie Brandenburg, Jaime Winton and Sandy Watkins
Location: Upstairs Middle School Classroom
In the fall, our 6th and 7th graders will be using Living the Word curriculum. They will dive deeper into the bible stories and also talk about ways to apply these stories to their lives today. Our middle school youth meet in the large youth room upstairs.
Confirmation Class (8th-9th grade)
Leaders: Barry Campbell
Location: Office Conference Room
The Confirmation Class is open to any youth 8th grade and older who has not completed Confirmation. This class will explore their faith, learn what it means to Presbyterian, and work with an elder mentor.

Senior High Youth (10th-12th grade)
Leaders: Heath Cobb, Mike Moorshead, and Michael Randall
Location: Upstairs Senior High Classroom
If you enjoy good friends, great conversation, and laughter, this is the class for you! The older youth enjoy asking and exploring the tough questions of faith.
The Fireside Class (Adults)
Leaders: Scott Carlson and Robb Ellis
Location: Clarke's Kitchen (beside the fireplace)
We are a group of mixed ages, both single and married, with and without children. Teaching responsibilities are shared between our two leaders, and occasionally class members, and a mix of lecture and discussion.
Disciple Class (Adults)
Leaders: Elaine Campbell, Diane Hughs, Lynn Ingram, and Cynthia Sims
Location: Adult Classroom (Back of Sanctuary)
We grow spiritually through group discussion and lively teaching which is shared among a team of teachers. Our studies range from topical to Bible studies to seasonal faith discussions. All ages are welcome.
Sunday school sessions are

Biblically

based, and will often utilize video presentations with followup discussion.
Both Adult classes will conduct an Advent study during December.