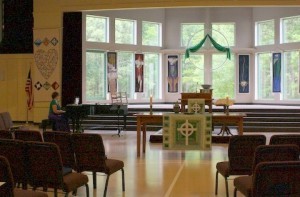 Are you looking for a warm and welcoming church home for your family? We would be delighted if you
Sunday Worship begins at 10:00 a.m.
Education hour begins at 11:00 a.m.
In 2019, we will be celebrating our 20th anniversary!!!
Our theme for the anniversary is "Rooted in Faith, Grounded in Love, Sharing in Community".
Please watch for celebration events an activities as we approach this significant day in the life of our church.
The Alternative Gift Fair will be on Sunday, December 2nd and Sunday, December 9th. The fair will be open before and after Church.
Our Latest Newsletter and Calendar
Read our latest

Eastminster Edition

to find out about how we celebrate life and worship Jesus Christ here at Eastminster.
For a more detailed look at our activities, review the Eastminster
Calendar

.
December Worship Services
Sunday, December 2 10:00 am 1st Sunday of Advent – Hanging of the Greens
Sunday, December 9 10:00 am 2nd Sunday of Advent – Lessons and Carols Worship
Sunday, December 16 10:00 am 3rd Sunday of Advent
Sunday, December 16 4:00 pm The Longest Night Worship – A Service of Comfort and Hope
Sunday, December 23 10:00 am 4th Sunday of Advent
Monday, December 24 4:00 pm Christmas Eve Worship – Communion and Candlelight
Narative Lectionary Fall 2018
The narrative lectionary respects the traditional Christian church year, with its principal seasons
— Advent, Christmas, Lent, Easter, and Pentecost. It also respects the rhythms of the school
year. During the fall, the Old Testament texts will be the primary scripture for proclaiming the
biblical story during Sunday morning worship. These same texts will be used in Preschool,
Elementary, and Middle School Sunday School classes.
November 4
"Elisha Heals Naaman"
2 Kings 5:1-15a
Elisha heals Naaman, a foreigner
and leper
November 11
"Micah"
Micah [1:3-5]; 5:2-5a; 6:6-8
God promises a ruler from Bethlehem
November 18
"Swords into Plowshares"
Isaiah 36:1-3, 13-20; 37:1-7; then 2:1-4
King Hezekiah despair Isaiah says the
city will be saved and nations will beat
swords into plowshares.
November 25
"Jeremiah's Temple Sermon"
Jeremiah 1:4-10; 7:1-11
Prophetic call as warning; temple
December 2
"Waiting and Watching"
Habakkuk 1:1-7; 2:1-4; 3:[3b-6] 17-19
Habakkuk struggles with the presence of
injustice in God's creation.
December 9
"Esther Leads"
Esther 4:1-17
When her people are in great peril, Esther
embraces her identity, and risks her life in
order to save the Jews from destruction.
December 16
"The Savior is Coming"
Isaiah 42:1-9
God is doing a new thing by calling a servant
who will bring justice, open blind eyes, and
liberate prisoners from dark dungeons.
December 23
"Joseph Trusts God"
Matthew 1:18-25
Joseph is visited by an angel and learns that
his son will save the people from their sins.