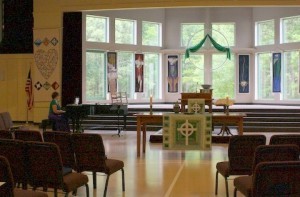 Are you looking for a warm and welcoming church home for your family? We would be delighted if you
Sunday Worship begins at 10:00 a.m.
Education hour begins at 11:00 a.m.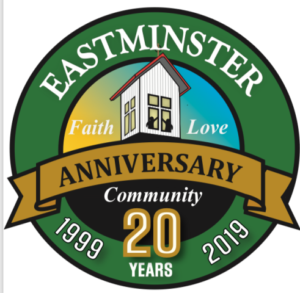 Join us in celebrating the
20th Anniversary
of Eastminster Presbyterian Church.
Our theme for the anniversary is "Rooted in Faith, Grounded in Love, Sharing in Community".
Celebration of the Charter – Sunday, September 8, 2019
10:00am worship followed by lunch
Celebration events thus far have included a 20th Anniversary Reflections Devotional, a Trees for Greenville event, and a Rise Against Hunger packing event. Commemorative tee shirts and magnets are available. If you are a previous member of our church, please plan on joining us and provide us your contact information so we can keep you informed.
For information about current events and happenings at Eastminster, please visit our News page and read our latest newsletter.
The narrative lectionary respects the traditional Christian church year, with its principal seasons — Advent, Christmas, Lent, Easter, and Pentecost. It also respects the rhythms of the school year. We will spend January-April immersed in the gospel of Matthew. These same texts will be used in Preschool, Elementary, and Middle School Sunday School classes.
April 7
"When Did we See You?"
Matthew 25:31-46
Jesus ends his final discourse to his disciples with
the Judgement of the Sheep and the Goats. When
the Son of Man returns, all believers will be
separated like sheep from goats based upon their
service to the king when the king was in need.
April 14
"Triumphal Entry"
Matthew 21:1-17
Jesus enters Jerusalem in a way that fulfills
prophetic expectations of the coming Messiah,
riding humbly on a donkey.
April 21
"The Empty Tomb"
Matthew 28:1-10
The women find Jesus' tomb empty after an angel
rolls away the stone and sits on it. The angel tells
them not to fear for Jesus is risen. As they run
from the tomb they meet Jesus himself and
worship him.
April 28
"The Great Commission"
Matthew 28:16-20
The resurrected Jesus appears to the remaining
eleven disciples in Galilee. He commissions them
to baptize and make disciples who will follow his
teachings. The Gospel ends with Jesus' promise to
be with the church until the end of time.
May 5
"Peter's Vision"
Acts 10:1-17, 34-48
Cornelius and Peter both experience visions that
lead to their conversion. Both men gain a broader
understanding of what God is up to in the world.
May 12
"Paul and Barnabas"
Acts 13:1-3; 14:8-18
Paul and Barnabas take center stage in the
narrative as they are sent by the Holy Spirit and
the church to carry the gospel to Gentiles across
the Roman world.
May 19
"Called to be Saints"
Romans 1:1-17
Paul greets the Roman congregation, and outlines
the basic themes to follow, including the
relationship between Gentile and Jewish
Christians, the role of faith, grace, and obedience,
and the righteousness of God.
May 26
"Peace and Hope"
Romans [3:28-30] 5:1-11
God's love for humanity has been shown in the
death of Christ, who died for us even though we
had done nothing to deserve it. This love that God
has shown us gives us the courage and strength to
face the sufferings of the world around us.