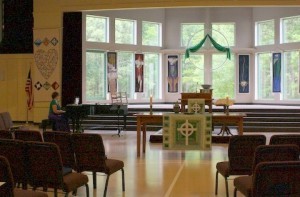 Are you looking for a warm and welcoming church home for your family? We would be delighted if you
Sunday Worship begins at 10:00 a.m.
Education hour begins at 11:00 a.m.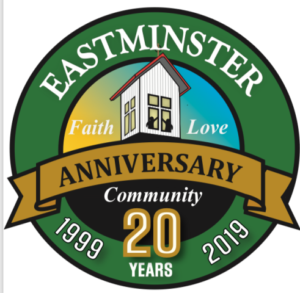 Join us in celebrating the
20th Anniversary
of Eastminster Presbyterian Church.
Our theme for the anniversary is "Rooted in Faith, Grounded in Love, Sharing in Community".
Celebration of the first Worship Service – Sunday, March 10, 2019
10:00am worship followed by lunch
Celebration of the Charter – Sunday, September 8, 2019
10:00am worship followed by lunch and ministry fair
Additional celebration events for our 20th are noted below. If you are a previous member of our church, please plan on joining us and provide us your contact information so we can keep you informed.
We need your Eastminster Story!
If someone were to ask you, "what do you love about Eastminster", how would you answer?
If someone were to ask you to share your favorite Eastminster memory, which one would you chose?
Those are the stories we need for our 20th anniversary devotion book. We need stories and reflections from people of all ages! How will you tell your story of Eastminster? Email lynningram@yahoo.com to share.
Sunday, February 10 – 10th Annual Bistro!!!
Wednesday, March 6 – Ash Wednesday
Sunday. March 10 – 20th Anniversary Worship
Installation/Ordination of Elders
Saturday, March 16 – Trees for Greenville
Saturday, March 30 – Rise Against Hunger packing session
(GOAL: 15,000-20,000 meals)
Sunday, April 14 – Palm Sunday
Thursday, April 11 – Maundy Thursday (Advent UMC)
Friday, April 12 – Good Friday worship
Sunday, April 21 – Easter Sunday
April 28-May 4 – GAIHN
Saturday, May 4 – Hands on Greenville
Sunday, June 9 – Pentecost
For more information about current events and happenings at Eastminster, please visit our News page and read our latest newsletter.
Narative Lectionary Fall 2018 / Winter 2019
The narrative lectionary respects the traditional Christian church year, with its principal seasons —
Advent, Christmas, Lent, Easter, and Pentecost. It also respects the rhythms of the school year.
We will spend January-April immersed in the gospel of Matthew. These same texts will be used
in Preschool, Elementary, and Middle School Sunday School classes.
January 6
"Home Another Way"
Matthew 2:1-23
King Herod creates a plot to find the infant Jesus.
The wise men follow a star to Jesus and greet Jesus
with joy and gifts, but are warned to not return to
Herod. Mary and Joseph take the infant Jesus to
Egypt to escape as Herod works to prevent the rise
of a new king that would threaten his power.
January 13
"Jesus and John the Baptist"
Matthew 3:1-17
John the Baptist preaches a message of repentance
as people come to be baptized by him. Soon after,
Jesus asks to be baptized. As Jesus emerges from the
water, a voice from heaven states, "This is my Son,
the Beloved, with whom I am well pleased."
January 20
"Temptation in the Wilderness"
Matthew 4:1-17
After being baptized by John, Jesus is led by the
Spirit into the wilderness for forty days, where he is
tempted by the devil. After returning from the
wilderness, Jesus begins his ministry.
January 27
"Sermon on the Mount"
Matthew 5:1-20
Jesus delivers the first section of a long discourse
known as the Sermon on the Mount. In it, he offers
his first instruction to the young church on how to
live in expectation of God's reign.
February 3
"The Lord's Prayer"
Matthew 6:7-21 [25-34]
Jesus continues the Sermon on the Mount by
encouraging prayer that puts us in relationship with
God, and offers a form that can be used as a starting
place for such prayer.
February 10
"Built on the Rock"
Matthew 7:1-14, 24-29
The conclusion of the Sermon on the Mount offers
further insights on the life of discipleship, and the
promise that this life will offer us the firm foundation
we need to live in the kingdom of God.
February 17
"Like a Mustard Seed"
Matthew 13:24-43
Jesus tells a series of parables that surprise and
challenge our concept of God's kingdom.
February 24
"Feeding of the 5000"
Matthew 14:13-33
By feeding a multitude and walking across a stormy
sea, Jesus demonstrates that God is at work taking
care of God's people.
March 3
"The Transfiguration"
Matthew 16:24–17:8
Jesus is transfigured before his key disciples. His
identity and mission are reaffirmed by the voice of
God from above.