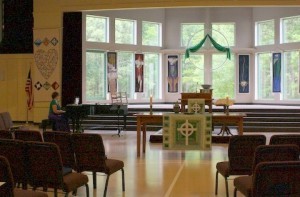 Are you looking for a warm and welcoming church home for your family? We would be delighted if you
Sunday Worship begins at 10:00 a.m.
Education hour begins at 11:00 a.m.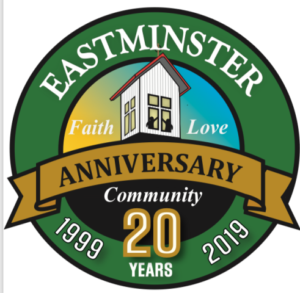 Join us in celebrating the
20th Anniversary
of Eastminster Presbyterian Church.
Our theme for the anniversary is "Rooted in Faith, Grounded in Love, Sharing in Community".
Celebration of the Charter – Sunday, September 8, 2019
10:00am worship followed by lunch
Celebration events thus far have included a 20th Anniversary Reflections Devotional, a Trees for Greenville event, and a Rise Against Hunger packing event. Commemorative tee shirts and magnets are available. If you are a previous member of our church, please plan on joining us and provide us your contact information so we can keep you informed.
Friday, May 31 Youth Lock-In
June 8 – June 15 Senior High Montreat
July 17 – July 21 Middle School Montreat
For information about current events and other happenings at Eastminster, please visit our News page and read our latest newsletter. We have also recently updated our Missions and Outreach page. Give it a look to see how we extend God's grace out to the world.
May 5
"Peter's Vision"
Acts 10:1-17, 34-48
Cornelius and Peter both experience visions that
lead to their conversion. Both men gain a broader
understanding of what God is up to in the world.
May 12
"Paul and Barnabas"
Acts 13:1-3; 14:8-18
Paul and Barnabas take center stage in the
narrative as they are sent by the Holy Spirit and
the church to carry the gospel to Gentiles across
the Roman world.
May 19
"Called to be Saints"
Romans 1:1-17
Paul greets the Roman congregation, and outlines
the basic themes to follow, including the
relationship between Gentile and Jewish
Christians, the role of faith, grace, and obedience,
and the righteousness of God.
May 26
"Peace and Hope"
Romans [3:28-30] 5:1-11
God's love for humanity has been shown in the
death of Christ, who died for us even though we
had done nothing to deserve it. This love that God
has shown us gives us the courage and strength to
face the sufferings of the world around us.
Join us for worship beginning June 23 as we
explore the fruits of the Spirit as found in Galatians 5:22-23.
June 23 Week 1: The Fruit of the Spirit (intro)
June 30 Week 2: GENTLENESS
July 7 Week 3: PEACE- Guest preacher Rev. Jim Caprell
July 14 Week 4: SELF-CONTROL
July 21 Week 5: JOY- Guest preacher Rev. Joseph Gaston
August 4 Week 7: KINDNESS
August 11 Week 8: GENEROSITY/ GOODNESS
August 18 Week 9: FAITHFULNESS