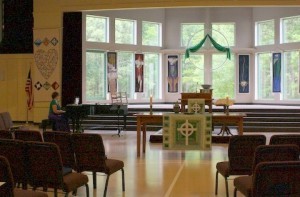 Are you looking for a warm and welcoming church home for your family? We would be delighted if you
Sunday Worship begins at 10:00 a.m.
Education hour begins at 11:00 a.m.
20th Anniversary Logo Contest
In 2019, we will be celebrating our 20th anniversary!!!
We are having a logo design contest and here are the rules:
The logo should reflect the theme "Rooted in Faith, Grounded in Love, Sharing in Community"
We are pleased that Kelly Fluker, our new Administrative Assistant has joined us.
Kelly can be reached in the church office at 864-284-0190 or admin@eastminster.com. She will be in the office Monday-Thursday, 9am-1pm.
Our Latest Newsletter and Calendar
Read our latest

Eastminster Edition

to find out about how we celebrate life and worship Jesus Christ here at Eastminster.
For a more detailed look at our activities, review the Eastminster
Calendar

.
October Highlights
Sunday, October 7 – 11:00 am Stewardship Lunch – 1:00 pm Stewart Farms Corn Maize
Sunday, October 14 – 4:00 pm WAMM (Worship, Arts, Music and Mission)
Sunday, October 14 – 5:30 pm Fellowship Meal
Sunday, October 14 – 6:00 pm Youth Fellowship
Friday, October 26 – 6:00 pm Church Family Campout
Sunday, October 28 – 4:00 pm WAMM (Worship, Arts, Music and Mission)
Sunday, October 28 – 5:30 pm Fellowship Meal
Sunday, October 28 – 6:00 pm Youth Fellowship
Narative Lectionary Fall 2018
The narrative lectionary respects the traditional Christian church year, with its principal seasons
— Advent, Christmas, Lent, Easter, and Pentecost. It also respects the rhythms of the school
year. During the fall, the Old Testament texts will be the primary scripture for proclaiming the
biblical story during Sunday morning worship. These same texts will be used in Preschool,
Elementary, and Middle School Sunday School classes.
"Covenant and Commandments"
God brings Israel as on eagle's wings; Decalogue
"Joshua Renews the Covenant"
Story of God's deliverance. Joshua says, "As for me and my house, we will serve the Lord"
2 Samuel [11:1-5, 26-27]; 12:1-9
Nathan's parable indicts David after his sin with Bathsheba.
1 Kings 3:4-9, (10-15), 16-28
Solomon prays for wisdom; two women and a child
Elisha heals Naaman, a foreigner and leper
Micah [1:3-5]; 5:2-5a; 6:6-8
God promises a ruler from Bethlehem
Isaiah 36:1-3, 13-20; 37:1-7; then 2:1-4
King Hezekiah despair Isaiah says the city will be saved and nations will beat swords into plowshares.
"Jeremiah's Temple Sermon"
Prophetic call as warning; temple as den of robbers