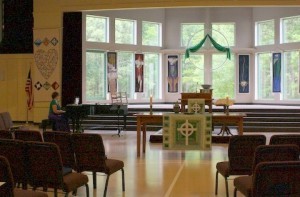 Are you looking for a warm and welcoming church home for your family? We would be delighted if you
Sunday Worship begins at 10:00 a.m.
Education hour begins at 11:00 a.m.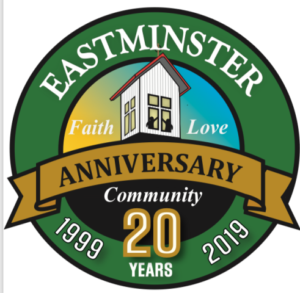 Join us in celebrating the
20th Anniversary
of Eastminster Presbyterian Church.
Our theme for the anniversary is "Rooted in Faith, Grounded in Love, Sharing in Community".
Celebration of the first Worship Service – Sunday, March 10, 2019
10:00am worship followed by lunch
Celebration of the Charter – Sunday, September 8, 2019
10:00am worship followed by lunch and ministry fair
Additional celebration events include a 20th Anniversary Reflections Devotional, a Trees for Greenville event, and a Rise Against Hunger packing event. Commemorative tee shirts and magnets will also be available. If you are a previous member of our church, please plan on joining us and provide us your contact information so we can keep you informed.
What's Happening
Wednesday, March 6 6:30 pm Ash Wednesday worship
Thursday, March 7 7:00 pm Art of Fellowship Women's Group
Saturday, March 9 8:00 am EPC Cleanup Day
Sunday. March 10 10:00 am 20th Anniversary Worship
Saturday, March 16 Trees for Greenville
Sunday, March 17 10:00 am 2nd Sunday of Lent Worship
Sunday, March 24 10:00 am 3rd Sunday of Lent Worship
Saturday, March 30 9:00 am Rise Against Hunger packing session
Sunday, March 31 10:00 am 4th Sunday of Lent Worship
Special Lent Sunday School- March 17, 24, 31, and April 7.
All adults are invited to join us for a special Lenten study by retired Furman professor, Dr. David Rutledge, who will lead our study "Discipline and Freedom", a modern look at Lent .
For more information about current events and happenings at Eastminster, please visit our News page and read our latest newsletter.
Narative Lectionary February and March 2019
The narrative lectionary respects the traditional Christian church year, with its principal seasons — Advent, Christmas, Lent, Easter, and Pentecost. It also respects the rhythms of the school year. We will spend January-April immersed in the gospel of Matthew. These same texts will be used in Preschool, Elementary, and Middle School Sunday School classes.
March 3
"Mountaintop Moments"
Matthew 16:24–17:8
Jesus is transfigured before his key disciples. His
identity and mission are reaffirmed by the voice of
God from above.
March 10
"What Are we Here For"
A celebration of the 20th anniversary of the First
Worship Service of Eastminster Presbyterian
Church.
March 17
"The Laborers in the Vineyard"
Matthew 20:1-6
Jesus tells the parable where a landowner hires
laborers throughout the day. Those who hired
last were paid the same as those who were first.
March 24
"The Wedding Banquet"
Matthew 22:1-14
Jesus tells the parable about a king wanting to
give a wedding banquet, but the guests do not
come. The king sends people out to find guests so
that the wedding hall would be filled.
March 31
"The Ways of the Kingdom"
Matthew 25:1-30
Jesus tells two parables as part of his final
teachings to his disciples, both which illustrate the
ways of the kingdom.
April 7
"When Did we See You?"
Matthew 25:31-46
Jesus ends his final discourse to his disciples with
the Judgement of the Sheep and the Goats. When
the Son of Man returns, all believer will be
separated like sheep from goats based upon their
service to the king when the king was in need.
April 14
"Triumphal Entry"
Matthew 21:1-17
Jesus enters Jerusalem in a way that fulfills
prophetic expectations of the coming Messiah,
riding humbly on a donkey. He then completes
symbolic acts in the temple, to the anger of the
religious leaders.
April 21
"The Empty Tomb"
Matthew 28:1-10
The women find Jesus' tomb empty after an angel
rolls away the stone and sits on it. The angel tells
them not to fear for Jesus is risen. As they run
from the tomb they meet Jesus himself and
worship him.