Dear Eastminster Family,
As we move forward with our new pastor, Rev. Stephanie Dion, we can reflect on many things that our congregation has accomplished this past year: the Alternative Gift Fair, the Bistro Youth Fundraiser, Montreat Sr. High Youth Conference, Summer Food Drive, Fall/Spring Workdays, and the installation of our first group of Stephen Ministers. Some new (or new again) opportunities to look forward to this year include the "Build" Tuesday night program, a Blood Connection blood drive, and the return of Rise Against Hunger. Some of these things are familiar and some are new endeavors, but the constant in all of them is our desire to serve God and His people in our church, our community, our region and around the world. In 1 Peter 4:10, the Bible says, "Each of you should use whatever gift you have received to serve others, as faithful stewards of God's grace in its various forms." Through our stewardship campaign this year, we want you to consider what you can GIVE TO SERVE GOD.
Eastminster is a congregation of generous, caring people who have always invested their time, energy and talents in Christ's work. Financial gifts are also crucial to our ability to support and continue this work and your pledge can help us plan the future endeavors of our church. God calls us to be generous givers of ourselves in many ways. How will we respond?
Stewardship is an invitation to participate in the work of the Spirit at Eastminster. Pledges help us plan and implement programs as we move forward into God's future together. We need everyone to make a commitment. Why? Because God's gifts to us are constant and we are called as His followers to be generous and give of ourselves. How will we respond?
As we journey through this stewardship season, we invite you to use the following, and to listen for God's call to you to Give to Serve God.
Personal Discernment Questions– Questions for prayerful reflection on how you are called to respond to God's generosity and to Christ's teaching to love God and neighbor. Here are the 2023 Discernment Questions.
2023

Call to Pledge

– Please review the 2023 Budget Call to Pledge with the hope that you will step up your commitment to Eastminster.
2023 Time and Talent Form – Spend time considering how you give your time and talent to God's mission at Eastminster. How might God be calling you to use your gifts in 2023? When you are ready, you can complete the form online here.
2023 Giving Grid – Find your current level of giving on the Giving Grid at the intersection of your Annual Income row and the Monthly Giving column. Move to the right to determine what kind of steps you can take on your personal giving path. Here is the Giving Grid.
2023 Pledge Card – Indicate how you will commit to the mission and ministry of Eastminster in 2023. Please submit pledge cards on Sunday, November 6 during worship or complete the form online here.
2023 Children and Youth Pled

ge Card

– All Children and Youth are invited to be a part of the future of Eastminster in 2023. Please submit pledge cards on Sunday, November 6 during worship or complete the form online here.
We ask you to join us in renewing your commitment to EPC for 2023 by pledging your time, talents, and treasure for the upcoming year. We're not praying for just money or larger pledges, but that God will work His own purposes out through each of us to Give to Serve God. Commitment Sunday will be

November 6, 2022

. Please be sure to turn in your commitment card and your time and talent card(s) on or before that day. Alternatively, commitment cards can be mailed to 2131 Woodruff Rd, Suite 2100, PMB 188, Greenville, SC 29607, and commitment forms, and time and talent forms can also be filled out electronically here or you can fill out your commitment card electronically through your OnRealm account using the option: Giving > Pledge Campaigns > Pledge Offerings, Jan 1 – Dec 31, 2023 after you login. We thank you and hope that you will join us in pledging to do more as we Give to Serve God together.
Faithfully yours,
The 2023 EPC Stewardship Team
Lynn Moorshead, Ed Irick, Gregg Campbell and Michael Randall
Stewardship Campaign Presentation
Please take time to review the Stewardship Presentation as you consider your participation in the life and work of Eastminster Presbyterian Church. View the 2023 EPC Stewardship Campaign Video overview.
View live presentation below: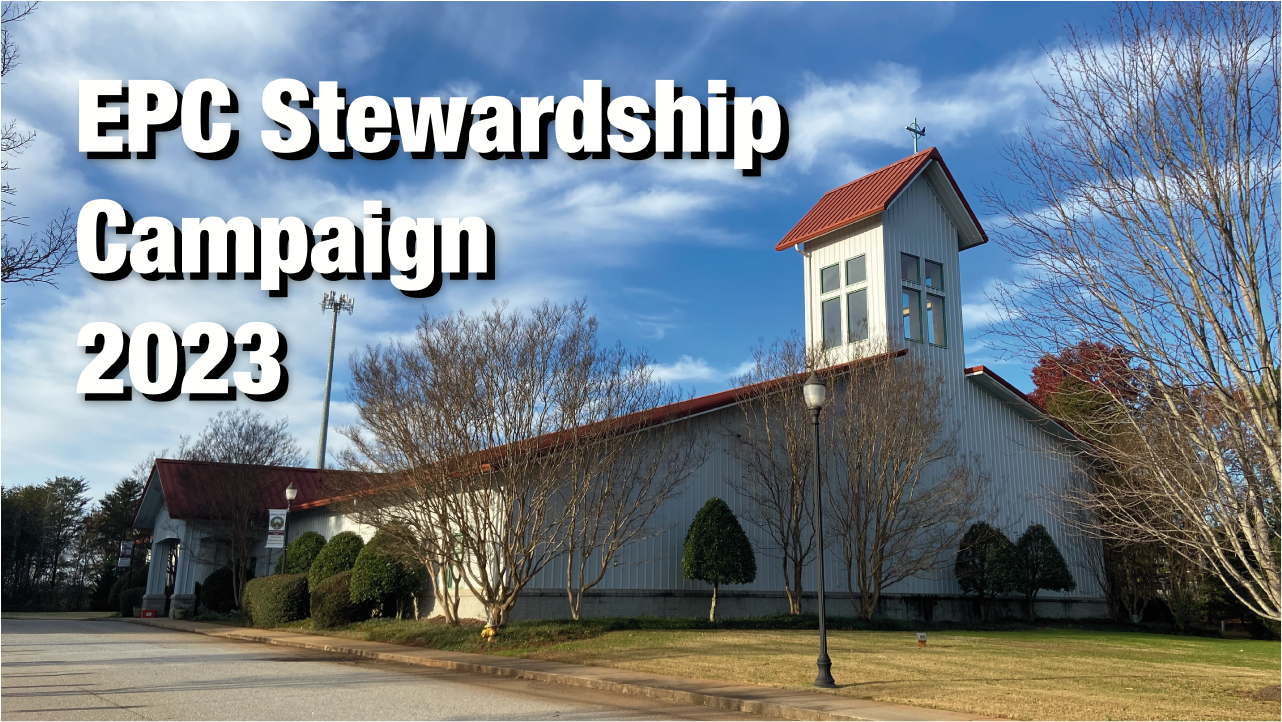 Thank you Letter
On behalf of the Session of Eastminster Presbyterian Church we thank you for your generous Pledge to support the 2023 EPC Stewardship Campaign. We thank you for your service, your gracious support, and your continued willingness to share your time and resources. With commitments like yours, we can go into the new year with renewed faith and confidence that our ministry will continue to make a difference, in our community and around the world, enabling us to continue our service to God.
Our members and friends provide the gifts needed to serve one another as well as the wider community. While we have much to be thankful for, we also have much to do to continue our service as we Worship, Grow, and Go in our faith together.
Thank you so much for sharing your time, talent and treasure. Your generosity makes all that we do possible, enabling the Eastminster Family to continue its service toward God's mission by Giving to Serve God.
Yours in Christ,
The 2023 EPC Stewardship Team