2017 Vacation Bible School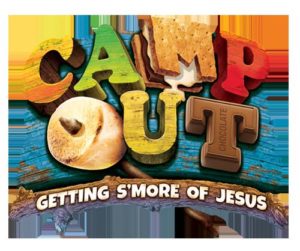 Do you love Jesus? Do you like camping? Have we got the VBS for you! Join us on Saturday, July 29TH at 9 AM as we help kids get s'more of Jesus!
This VBS is filled with incredible Bible learning experiences Kids see, hear and touch. Team-building games, cool Bible songs, and awesome Bible adventures are just a few of the activities that help faith flow into real life. The charity that we're supporting this year is Wildlife Rehab of Greenville, an organization that is dedicated to the rehabilitation and release of injured and orphaned wildlife in the 7 counties of the Upstate.

Lunch will be served between two sessions, and we'll be finished around 4:00. Oh, and at the end of the day, we have a special surprise for all campers and camp counselors!!!

Our VBS cannot be successful without you!!! Take a look at the volunteer sign-up board in the commons room to see how you can help make this a fun and successful VBS for everyone!
And, if you are in Kindergarten through 5TH grade, make sure your register today! Tell your grand kids, neighbors, and friends; they won't want to miss this exciting VBS. It's going to be In-tents! Get it? In Tents?
Download the registration form and forward it to the church office.
2017 VBS Registration Form in Word
2017 VBS Registration Form in PDF