2016 Vacation Bible School is done. We had a great time. Look for our next VBS in 2017.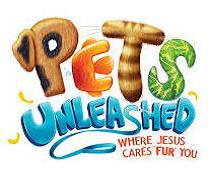 Saturday, June 25th, with a celebration in church on Sunday
Time: 9:00 am – 4:00 pm
2 Sessions with lunch served in between
Kids are crazy for critters with whiskers, tails, feathers or scales! During the two sessions, we'll introduce kids to Jesus, God's son who lovingly cares for us. At Pets Unleashed Vacation Bible School, kids experience God's Word in surprising and unforgettable ways! Leaders will reinforce one simple Bible truth—which makes it easy for kids to remember and apply to real life! The key verse, "Give all your worries and cares to God, for he cares about you."

(1 Peter 5:7) will be introduced and reinforced with music, drama, games and missional crafts.
This year, our VBS charity is Concerned Citizens For Animals, an animal rescue group in Simpsonville. We will be collecting items they need, as well as using our craft segments to construct toys and treats for their rescued animals.